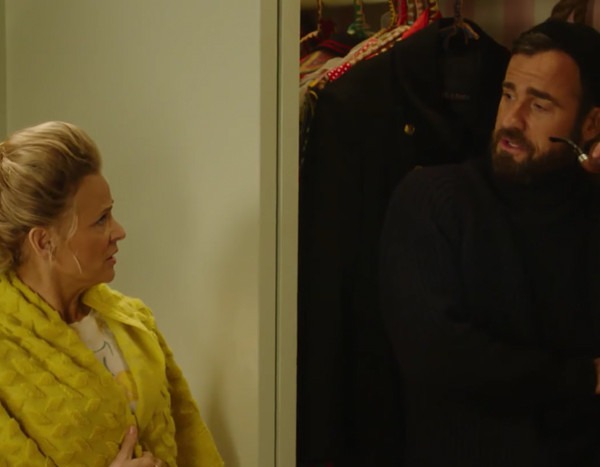 Justin Theroux is smoking a pipe in a closet, a closet he died in years ago. Susan Sarandon is wearing a tiny hat. Rose Byrne is making a donut bird feeder. This isn't a fever dream, this is At Home with Amy Sedaris.

In the above trailer, get a look at the madcap comedy of the Emmy-nominated series created by Amy Sedaris and Paul Dinello, two of the folks behind the cult-hit Strangers With Candy.

"Think of this show as a delicious, Emmy-nominated pound cake," Sedaris says in the trailer above. "All the ingredients are essential: One pound of me, two whole cups of myself, a generous drizzle of I, and a pinch of you, my fans."
Season two of the delightfully deranged comedy lifestyle show features a smorgasbord of zany characters played by Byrne, Theroux, Sarandon, Matthew Broderick, Gillian Jacobs, Juliette Lewis, Ellie Kemper, Fred Armisen, Michael Shannon, Ann Dowd, Martha Plimpton, Jessica Walter, Campbell Scott, Billy Crudup, Bridget Everett, Julie Klausner, Paul W. Downs, Janeane Garofalo, Richard Kind, Thomas Lennon, David Krumholtz, Ana Gasteyer, Darrell Hammond, Jackie Hoffman, John Early, James Monroe Iglehart, Matt Malloy and, yes, somehow more. Cole Escola, David Pasquesi, Heather Lawless and Ana Fabrega reprise their roles from season one.
Each week, as was the case last year, Sedaris and the many characters she plays (Southern socialite Patty Hogg, regional wine guru Ronnie Vino, and Nutmeg) take on homemaking themes in subversive ways only Sedaris and her team can.
"I just hope people are entertained by it. Good old-fashioned entertainment is what I'm going for," Sedaris told E! News before the show premiered its first season. "Just being entertained and having these amazing actors come on and play these stupid characters and experts, and how beautiful the set is and how it all took so much skill and talent. There isn't anything on this set that was just like, phoned in. You know what I mean? I think that's pretty impressive."

At Home with Amy Sedaris returns Tuesday, Feb. 19 at 10 p.m. on truTV.